Summer Camps
Why is sailing so great?
Sailing is a skill that takes mental focus and continual practice and learning in order to progress. People of all ages and strengths can enjoy it as it is more about "brain than brawn." Furthermore, sailing is a sport where you have to learn to adapt to constantly changing situations, and where both leadership and communication are emphasized. It's the perfect sport to introduce your child to at a young age.  It's a memory that will last for a lifetime.
BSC mission "Inspiring the children to know and grow the love of sailing, while teaching fundamental life skills and bringing everyone closer together at the great outdoors"
Why choose Beijing Sailing Center?
For the last eight years, Beijing Sailing Center has been successfully implementing sailing-focused summer camps and school program activities at our beach in Beidaihe. The program provides an adventurous, intellectual and educational experience, while honing your child's leadership and communication skills.  Last summer we hosted over 500 satisfied children and their parents coming. The center is both convenient to Beijing (a 2 hour train ride trip) and all the accommodation, transportation, meals, activities/learnings, chaperones and entertainment are covered. You will find it to be a truly unique and rewarding residential program.
Our Camp Choices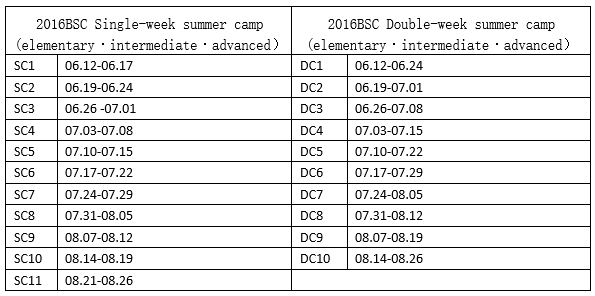 Note:
Single-week camp and double-week camp both include elementary level, intermediate level and advanced level.
We can also customize three-week and four-week camp. For detail information, please call:4001800107
Safety is our #1 priority.
Instructors: Our international instructor team ismade up of RYA and IYT qualified instructors.
Campers: campers/instructors=6:1, campers/ campcounselors =10:1, Campers will never be left unsupervised.
Food: Breakfast, lunch and dinner are provided atthe center, catering company would be equipped to deal with allergies and dietary requirement. Please inform us in advance about your child's specific dietary requirement.
Equipment: lifejackets, helmets, lifeboats alwaysaround whilst sailing.
Experience: many years of trusted and safe operation.
Accident management and control: Children fall ill orget injured whilst at summer camp we will keep an eye on them, if they continue to feel worse we will notify the parents/guardian and take the child to a local medical center ASAP.
Age: 8-16
Physical conditions: Healthy, children who are sick that cannot participate in outdoor, water sports(such as heart disease) should not participate in sailing camp.
Forbidden:
Cursing and bad languages
Bullying
Physical confliction with other campers
Not obeying arrangements of instructors or  counselors
• 10-minute walk from and to the BSC Sailing Center
• Great facilities and safe environment
• Living in comfort
REMEMBER TO BRING PASSPORT!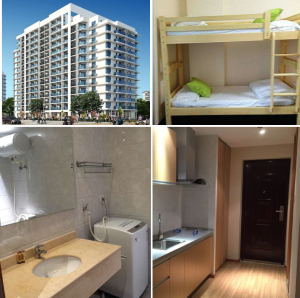 Huamao Azure Beach Sailing Club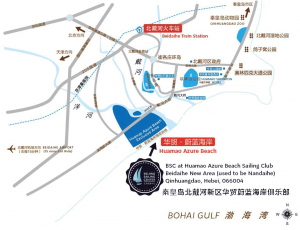 • By Train: 2 hours from Beijing (D-trains) and 1 hour from Tianjin(G-trains)
• By Bus: 3-4 hours from Beijing and 1.5 hours fromTianjin, depending on the traffic.